Vertical Packaging Machines
MBP RC700/800
R-evolutionary VFFS Wrappers – Continuous Box Motion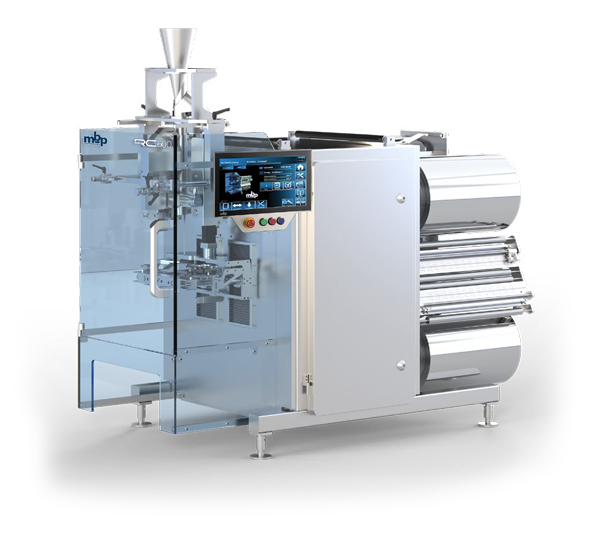 MBP RC700/800
R-evolutionary VFFS Wrappers – Continuous Box Motion
RC700/800 is a continuous motion VFFS machine with Box-Motion top produce pillow bags, square bottom bags and Steelo Bags. RC700/800 is equipped with one or two reel-holder shafts and the sealing unit inside the calender for Pillow-Packs and Steelo-Bags.
Speed: up to 180 Pillow Bags per minute and up to 100 Steelo Bags per minute.
Main Benefits
Save space, fast and easy format change, continuous control of the film stretch.
The RC700 is a very compact and innovative machine that allows very quick format changes. It is characterised by some original technical features that include the reel holder shaft positioned at 90° with respect to the traditional rear position; the introduction of the self-centring film tracking positioned on the top that directs the film towards the forming tube and consequently by the drastic reduction in the number of rollers that transfer less inertial energy to the film allowing greater acceleration.
The operating principle and the high productivity.
The operating principle of the machine calls for a motorized reel-holder shaft that moves constantly up to the box-motion sealing unit.
The RC700 is equipped with 1 or 2 reel-holder shafts and a calender sealing unit for Steelo-bags; it reaches a production speed of 180 mechanical cycles per minute for the pillow-bag and up to 100 mechanical cycles per minute for the Steelo-bag. The Steelo-bag sealing unit (four-seal square bottom) is located in the calender, a useful position in case of format changes.
Packages Pillow Bag
W: 80-280mm

L: 50-350mm

Up to 180 bags/min cutting pitch up to 150 mm Gusseted Bag
W: 80-280mm

L: 50-350mm

Up to 180 bags/min cutting pitch up to 150 mm Block Bottom
W: 100-250mm

D: 50-100mm

L: 100-350mm

Up to 100 bags/min Steelo-Bag Sided Seal
W: 100-200mm

D: 50-90mm

L: 100-350mm

Up to 100 bags/min