Weighing & Packaging solutions for
Bread/Bakery
For large and medium and little sized bakery products, according to the type of fermetation of each product, MBP has developed a wide range of multihead weighers and vertical form fill and seal VFFS machines which are particularly flexible and capable of ensuring no product damages or breakages, pecise counting, minimum product waste, perfect packages with format change in a few minutes. The lines are highly customized according to the specific need of every client and can be integrated with PFM robotic loading systems.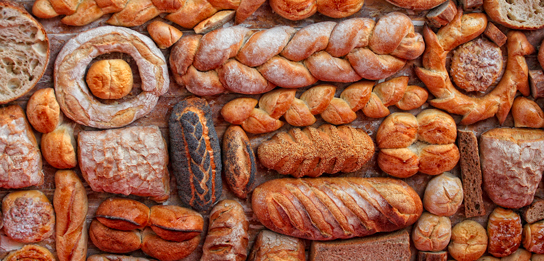 The advantages offered by MBP weighers for bread/bakery:
Extremely delicate handling due to the presence of dedicated soft-touch components, systems that reduce product drop speed during the weighing and packaging stages and special systems for handling fragile products.
High degree of protection for the machine against sugar dust and its abrasive and corrosive effects provided by construction of moving components, body and top cover in AISI 304 steel.
Product waste reduced to zero.
No obstruction of the forming tube thanks to the DSC (Drop Sequence Control) system.
Types of product weighable:
Bread
Toasted bread
Croissants
Salties
Buns
Cakes
Sweets
Pastries
Pies
Weighing & Packaging Solutions
for Bakery