Vertical Packaging Machines
MBP R700/800 TWIN
Top performance and smaller overall dimensions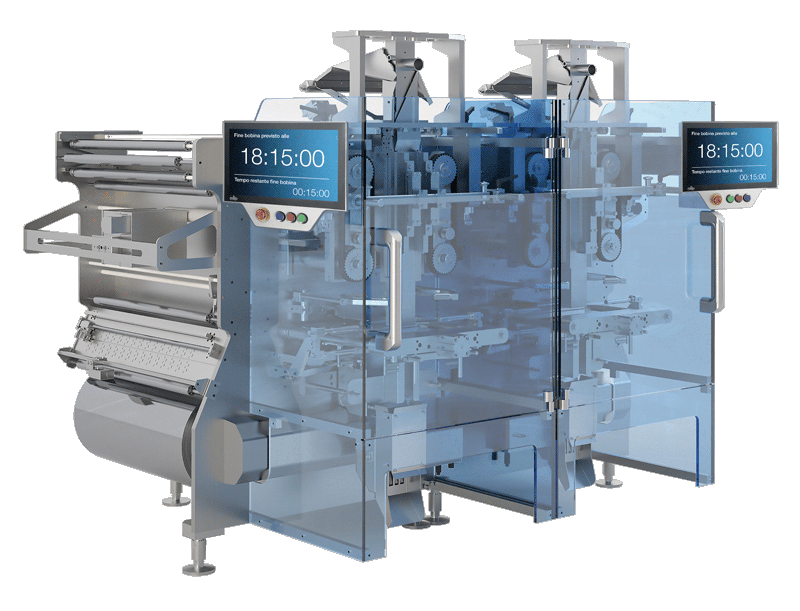 DOUBLE PRODUCTION, SMALLER SPACES
R-Series' technology guarantees top performance and smaller overall dimensions. The TWIN configuration allows double production using one MBP multi-head weigher, even in small places.
R700 TWIN occupies 3,2 m2 and features a 700 mm film width.
R500 TWIN occupies 2.7 m2.
Steelo-Bag sealers are installed on the forming tube, leaving the height of the forming tube unvaried compared to the basic version.
Production with square bottom and/or Steelo-Bag can reach up to 70+70 packs/min with one outfeed conveyor.
Pillow-bag output can reach up to 120+120 packs/min (16C2DMA TWIN).
The films that can be used with the R-700 are less complex than those used with a continuous machine.
The time needed to change the format with an R-700 TWIN is halved compared to any Steelo-Bag continuous machine model.
50% of the production is always guaranteed. If the potential is not exploited to its maximum, it is possible to increase line production so as to compensate for a stopped line.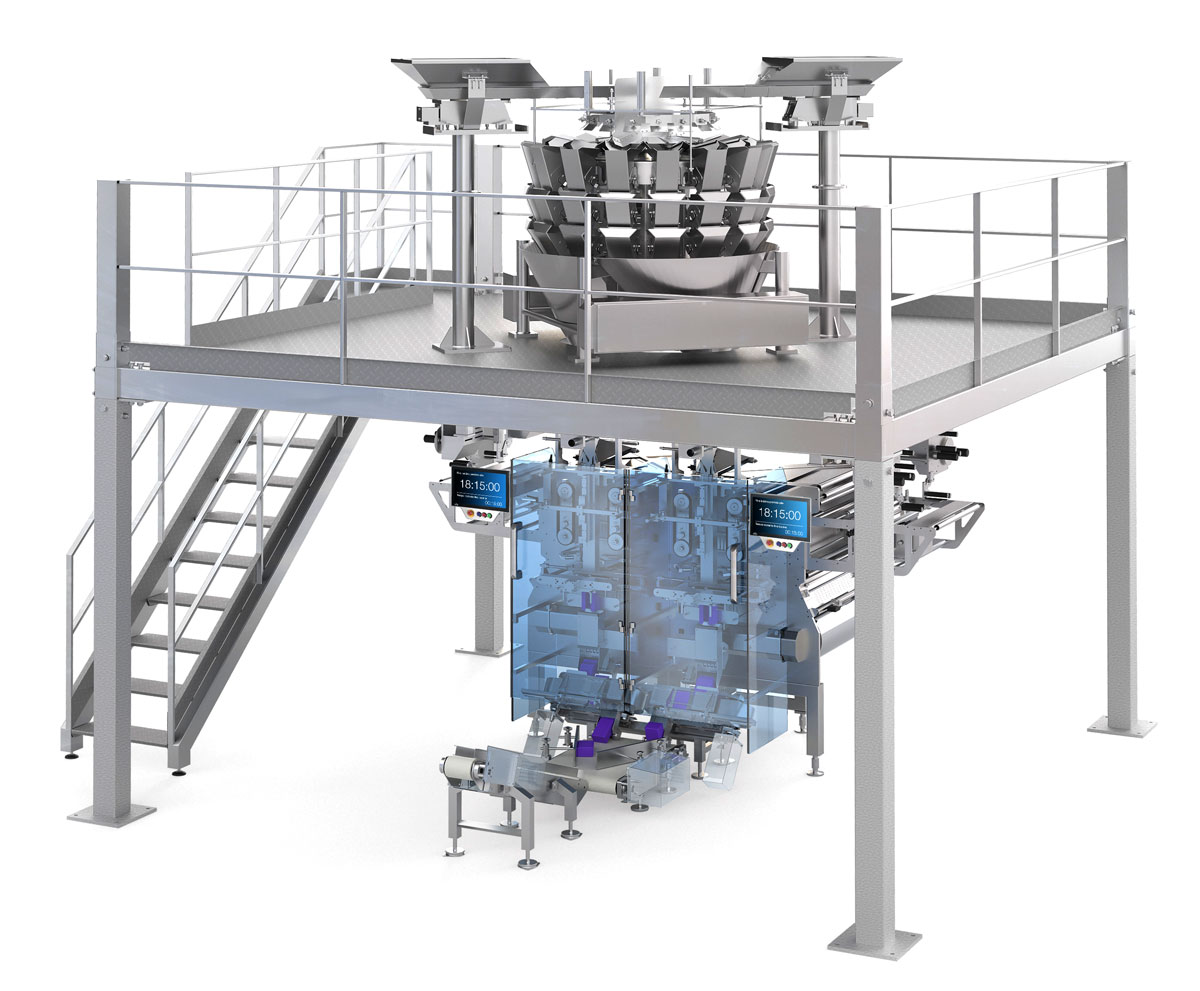 The operating principle:
from continuous to intermittent motion.

The operating principle of the machine is based on a motor driven reel-holder shaft that rotates constantly and the film pulling and sealing unit that moves intermittently. An electronic compensating dancing roller transforms the constant movement of the film arriving from the reel shaft into an alternating movement towards the sealing units. Thanks to this principle, the use of the mechanical reel brake is not required anymore and the overall machine dynamics is very smooth thanks to the film stretch management that can be programmed by the software. The first 6 film idle rollers rotate constantly and only 2 rollers move intermittently. As a direct consequence, the inertial energy is not transferred to the film and it is possible to increase the acceleration of the film and / or the sealing time, which greatly benefits productivity and the aesthetics of the pack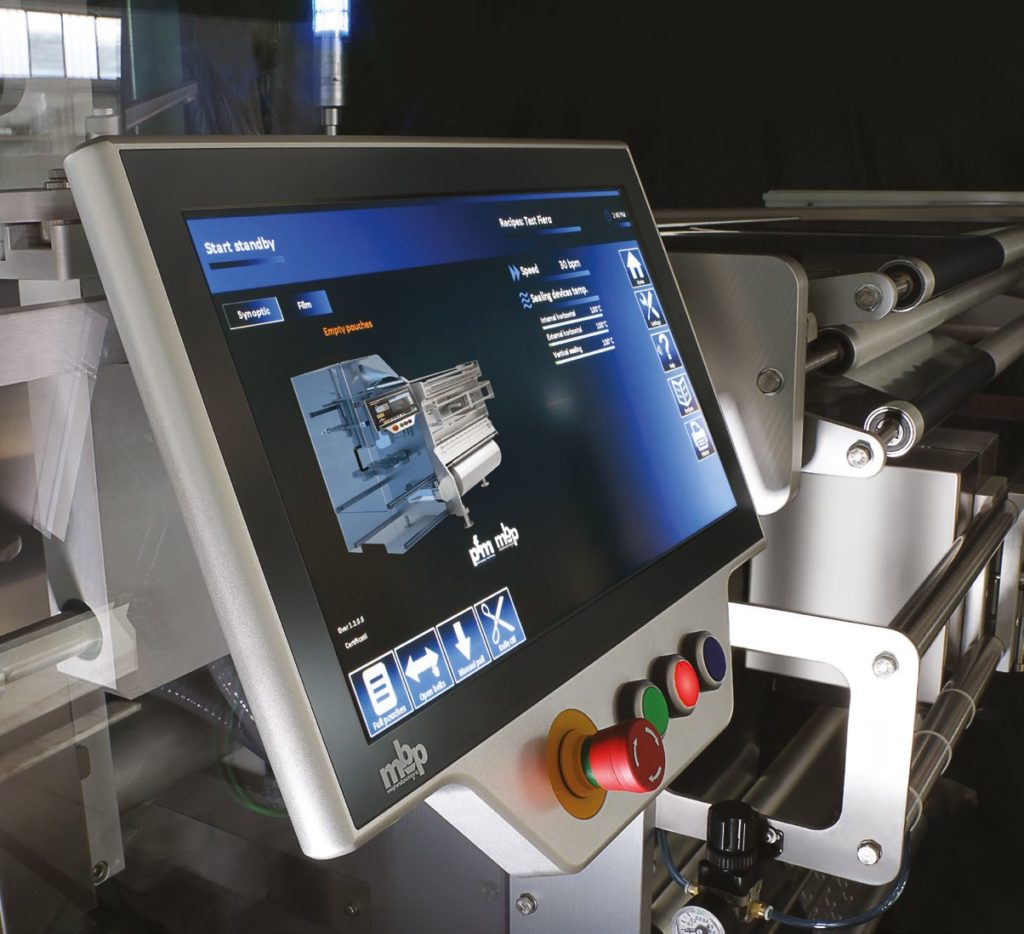 Packages Pillow Bag
W: 80-300mm

L: 50-400mm

Up to 280 packs/min

Up to 120 packs/min with Zip Gusseted Bag
W: 80-300mm

D: 30-100mm

W+D <250mm

L: 50-400mm

Up to 280 packs/min Block Bottom
W: 100-260mm

D: 50-100mm

W+D<250mm

L:100-380mm

Up to 140 packs/min Steelo-Bag
W: 100-170mm

D: 50-90mm

W+D<250mm

L: 100-350mm

Up to 140 packs/min