Weighing & Packaging Solutions for
Mozzarella Cheese
Mozzarella is a semi-cooked, spun cheese processed either semi-mechanically or manually. It is salted by being immersed in brine and ripens very quickly. It has a soft, elastic consistency and a compact, slightly spongy structure with a smooth surface. This type of cheese must be handled extremely delicately in order to preserve its flavour and appearance. After weighing, MBP machines transfer the mozzarella cheeses to packaging machines for MAP or packing in brine.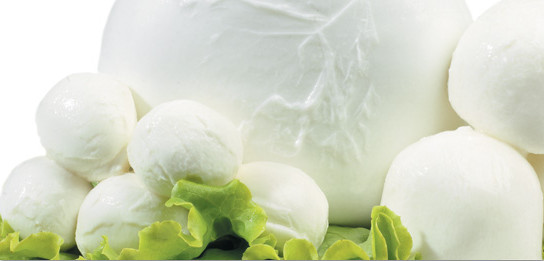 The advantages offered by MBP weighers for Mozzarella cheese:
Delicate handling of the product to prevent damage.
Complete protection of all the machine's components against infiltration and aggressive agents typical of working environments in this industry.
Extremely fast, easy cleaning and disinfecting of the entire machine. Can be washed down completely even with water jets.
Perfect integration between the machine and upstream processing and downstream packaging.
Types of product weighable:
Mozzarella in cubes
Shredded mozzarella
Mini mozzarella cheeses
Weighing & Packaging Solutions
for Mozzarella